Washington - With Israel under increasing pressure due to a steadily rising death toll in Gaza and images of Palestinian suffering flooding social media, the United States turned to a familiar page in its foreign policy playbook: it declassified and released some intelligence.
Both the White House and Pentagon on Tuesday announced the U.S. had information backing Israeli claims that Hamas - long designated by Washington as a terrorist organization - was using Gaza's Al-Shifa Hospital to direct operations against Israel.
'We have information that confirms that Hamas is using that particular hospital for a command-and-control node,' National Security Council spokesman John Kirby told reporters traveling with President Joe Biden on Air Force One.
"They have weapons stored there and are prepared to respond to an Israeli military operation against the facility,' Pentagon Deputy Press Secretary Sabrina Singh told Pentagon reporters, adding the Al-Shifa Hospital was just one of several used by Hamas and its ally, Palestinian Islamic Jihad, "to conceal and support their military operations and hold hostages."
The tactic of releasing such information - known in the White House as a strategic downgrade - has increasingly become a go-to tool for the Biden administration when it needs to shape global public opinion.
It's most famous and first applications came during the run-up to Russia's February 2022 invasion of Ukraine, when the White House quickly declassified and shared evidence of Russia's military build-up with allies and with the public, galvanizing support for Kyiv.
The White House also turned to strategic downgrades to push back against China's claims about its errant spy balloon which traversed much of the continental U.S. earlier this year and, more quietly, to defuse a potential crisis Mali sparked by mercenaries with Russia's Wagner Group.
And now, Israel.
"We felt it was important for the world to know exactly how Hamas has chosen to embed themselves in the civilian population and use civilians, including those at hospitals, as human shields," a senior U.S. official told VOA, speaking on the condition of anonymity to discuss the decision-making process.
The selection of Shifa Hospital, in particular "as a location to base military operations from," the official said, was "in violation of the laws of war."
The announcements from the White House and the Pentagon were met with almost immediate skepticism on social media platforms, with accounts accusing the U.S. of lying to cover for Israel or of basing its assessments entirely on Israel's own claims.
Hamas, too, rejected the accusations from Washington.
'We strongly condemn and reject the claims,' Hamas said in a statement on its Telegram channel late Tuesday. 'These statements give a green light to the Israeli occupation to commit further brutal massacres.'
Hours later, Israeli forces launched what Israel described as "a precise and targeted operation" aimed at Hamas fighters in Shifa.
The U.S. official told VOA the timing of the Israeli action, following the statements from the White House and Pentagon, was coincidental.
"The downgrade had nothing to do with any operational timing or any decision making by the Israeli Defense Forces [sic]," the official said. "We do not want to see airstrikes or firefights at hospitals, and we believe that patients and civilians must be protected."
Other U.S. officials, likewise, pushed back against accusations that Washington's intelligence assessment was based on Israeli intelligence, saying it was based on information collected by multiple U.S. agencies.
The Wall Street Journal Wednesday reported that the U.S. assessment Hamas was using Al-Shifa as a base for operations came partly from intercepted communications of fighters inside the hospital compound.
Former intelligence officials and analysts who spoke to VOA said they expected the U.S. assessment was likely based on both intercepted communications, known as signals intelligence or SIGINT, and human sources.
"The obvious way that you would know something like that would be because you knew that a credible Hamas source had confirmed it, and that could be because you had human intelligence to that effect, or it could be that you had some kind of intercept to that effect," a former Western counterterrorism official told VOA, requesting anonymity due to the sensitive nature of the intelligence gathering.
And the U.S. has been in position to intercept Hamas communications. The Pentagon, earlier this month, confirmed it started flying unarmed drones over Gaza on October 7 to help with hostage recovery efforts in the aftermath of the Hamas terror attacks.
Larry Pfeiffer, a former CIA chief of staff and former senior director of the White House Situation Room, told VOA the U.S. also has the ability to use satellite reconnaissance and cyber capabilities to help pinpoint how Hamas is directing its operations.
"The NSC [National Security Council] and the Pentagon spoke with some certitude," he said. "[That] suggests to me some pretty rock-solid evidence derived from U.S. collection or independently verifiable Israeli collection."
Israel, late Wednesday, began releasing images and other evidence from its operation in Al-Shifa Hospital that it said proves Israeli and U.S. assessments that Hamas had been using the hospital as a command center - showing so-called Hamas "grab and go" bags, with assault rifles, ammunition, grenades and uniforms, as well as other weaponry and equipment.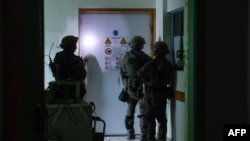 This handout picture released by the Israeli army on Nov. 15, 2023, reportedly shows Israeli soldiers carrying out operations inside Al-Shifa hospital in Gaza City. (Photo by Israeli army / AFP)
Like the U.S. announcement, the Israeli claims were met with skepticism by some social media accounts, some accusing Israel of planting the evidence.
But some of the former intelligence officials who spoke with VOA said the Israeli evidence should not be dismissed.
"The IDF video showing weapons recovered at Al-Shifa is certainly significant, as this does demonstrate Hamas' utilization of the hospital, which is technically a war crime," said Marc Polymeropoulos, a former senior CIA operations officer who worked extensively in the Middle East.
"That said, given the U.S. and Israeli claims that the hospital contained a major command and control node for Hamas, it's probably going to take additional evidence, such as video of the actual tunnels under the hospital, to buttress the intelligence claims and assuage some of the international concerns," he added.
Still, Polymeropoulos and other former officials believe the U.S. decision to declassify the intelligence on Hamas' use of hospitals will pay off, even if it takes time.
"This is clearly designed to give the Israelis some breathing room," Polymeropoulos said.
"The audience is both global, because of the international outrage, but also domestic," he said, noting the Biden administration has faced increasing criticism in the U.S. for its unwavering support of the Israeli campaign.
The former Western counterterrorism official also said the U.S. decision to back up the Israeli claims with independent U.S. intelligence may also serve to buy Israel more time with Arab and Muslim governments, whose patience may be wearing thin.
"This is perhaps just about the moment in the conflict where people are starting to wobble," the official said. 'Declassifying that information clearly helps to tell the story of why the Israelis are having to respond in the way that they have."